Chihuahua Backroads
 CHIHUAHUA BACKROADS
Archeological Treasures and Adventures
Just South of the Border
Author: Gary Wescott / Photos: Gary & Monika Wescott
It was the rainy season in Chihuahua. Creeks had swollen and afternoon thunderstorms were the norm. From The Turtle Expedition's earliest days of exploring Mexico in our old blue Land Rover, otherwise known as La Tortuga Azul, we have always been fascinated by the backroads. They invariably have led to the most interesting places and people. A little mud and a few river crossings just added to the adventure.
For over 1,000 years, while Anasazi, Utes, and Navajos settled the canyons and mesas of Southwestern United States, far to the south, their counterparts, the Toltec, Aztec and Mayans flourished. These major civilizations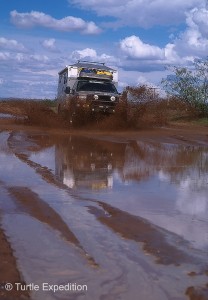 dominated North and Central America long before the arrival of Europeans. But who were the Paquimé? Some nine hundred years ago, this unique culture thrived in an area today called Casas Grandes, or "Big Houses". They had been noted as early as the 16th century by Spanish explorer Álvar Núñez Cabeza de Vaca. With an estimated population of 10,000 at its height, the ruins of their adobe "city" and surrounding cave dwellings are considered the most important archeological site in Northern Mexico.
We had been invited by Eduardo Payán, a local rancher, to accompany him as he checked on some cattle in a foothill pasture near the community of Nuevo Casas Grandes in the state of Chihuahua in Northern Mexico. The rain was a welcome sight for Eduardo. The area has been suffering from several years of severe drought. Splashing through the occasional flooded arroyo, we gazed out over the surrounding grass land, pocked with cacti and thorny mesquite trees. It was hard to imagine how it might have been to travel through this semi arid landscape on foot, as the Paquimé inhabitants had centuries ago.
Now, sitting on our horses atop a low hill, we watched thunderheads build in the afternoon shadows over the valley. We felt somewhat exposed as streaks of lightning flashed menacingly across the mountains and invisible waves of thunder rumbled over us. Then, to our total astonishment, as the sun slowly dropped behind the line of squalls, the sky erupted into a brilliant orange across the entire horizon. This was more than a sunset. This was a light show beyond imagination. We sat dumbfounded as the spectacle unfolded before us. Not since the aftermath of Mount St. Helen's cataclysmic explosion had we seen such an atmospheric extravaganza. With the smell of rain in the air, I had left my camera in the truck. Just as well. Had I taken a picture, it would have looked as if I had used some trick filter. Some things you just need to record with your memory.
A week earlier we had crossed the US-Mexican border at Douglas, AZ and threaded our way out of Agua Prieta over to Hwy. 2 south. Border towns have always been the most treacherous to drive through. The pavement was rough and broken, but improved after a few miles, and soon we were climbing on a classic narrow winding road into the heart of Chihuahua.
About the only menace were the occasional cow or horse, and the seemingly huge semis coming the other direction. The width of most Mexican secondary roads was never designed for these big overland transport trucks, and they take all of their lane, right up to the line. On a hairpin corner, they take the whole road! Since there was usually no shoulder to speak of, and a two or three-foot drop-off, extending over a 500-foot cliff, it made for some white
knuckle APPs, (Anal Pucker Passes), especially when we'd come up behind a truck goingabout 15 mph on a steep grade. Without loosing our momentum, and drawing on some of our Power Stroke Diesel's 550 ft. lbs. of torque, it was often a matter of looking far ahead and sling-shooting around. The good news is, the drivers of the big 18 and 26-wheelers know what they're doing, and are mostly considerate of their size. They will typically flip on their left turn signal to let you know when they think it's safe to pass. Then you take your chances. It's kind of exciting passing a 90-foot semi combo on a hill you can't see over yet.
Nuevo Casas Grandes (New Big Houses), was at once a friendly place to be. Our Spanish is fluent, but we found that many speak surprisingly good English. As it turns out, a large number of people in town had gone to the Mormon school in the adjacent community of Colonial Juarez, which until a few years ago taught only in English. By chance, we were introduced to Norma Piñon. She offered to show us around Colonial Juarez, the Mormon community where she had gone to school. It was like driving into a Pennsylvania suburb, with tidy gardens around neat brick houses. The Mormons had originally settled in this part of Chihuahua in the 1880's, and their peach and apple orchards have been prosperous, as some of the beautiful homes demonstrated.
Equally industrious, to the north of Casas there are two Mennonite communities which have helped make the Chihuahua cheese one of the most famous (and delicious) in the country. We were invited for lunch at a family's home and the man of the house gave us a tour of the cheese factory and the school.
As we met and talked with locals, our planned two-day stopover quickly stretched to two weeks, and then to three! The main ruins of Paquimé, a designated World Heritage Site, is adjacent to an excellent cultural museum,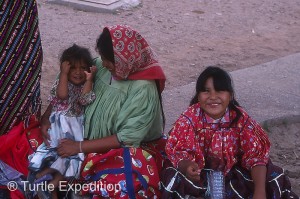 Museo de las Culturas del Norte, with many interesting displays showing the similarities of all the tribes of the Southwest, long before international borders were created. Visiting the museum gave us a much clearer idea of what we were seeing as we walked around the maze of partially restored buildings. Paquimé had running water, sewer, and a complex system of underground water storage for domestic and agriculture use. They also raised macaw parrots, whose colorful feathers were an important trade item. Artifacts found during the site excavation indicate that Paquimé trade routes extended north into what is now Arizona and New Mexico, south to the Toltecs, and all the way over the Sierra Madre to the Pacific.
While the Paquimé ruins were interesting, there was much more to see and do in the area. Eighteen miles south of Nuevo Casas Grandes, (the locals just call it Casas), a bumpy unpaved road brought us to the small town of Mata Ortiz. (We've heard the road is paved now.) Here the traditional art of Paquimé pottery has been revived. Beautiful pots are made using local clays that range in color from a deep red to brown, cream and black.
Along the way to Mata Ortiz, we stopped at the Hacienda de San Diego, an old mansion dating back to 1902. Pancho Villa took it over during the Mexican Revolution. Bullet holes can still be seen in the adobe walls. John J. (Black Jack) Pershing and his Expeditionary Force camped in nearby Colonia Dublán while they chased Pancho Villa. The future General Patton was Pershing's aid. Interestingly enough, we learned that Dublán is also the birthplace of George Romney who became governor of Michigan and President of American Motors. His son, Mitt Romney, organized the Winter Olympics in Salt Lake City in 2003.
The famous Chihuahua al Pacific Railroad climbs over the 8,000 foot mountains of Northern Mexico, passing through 86 tunnels and crossing 39 bridges on the way to the coast. A little known spur of the line descends through the mountains from La Junta, all the way to Nuevo Casas Grandes. The tracks are in poor shape, and the rotting bridges would no longer support a full size locomotive, but portions of the route are still in use.
On a sunny morning, we climbed aboard a small passenger carriage. A rickety little "speeder", powered by a smoking six-cylinder gasoline engine, lurched out of the old train station in Casas. The limited service brings supplies and locals to remote farms and ranches in the mountains. We bumped and swayed over the twisting tracks for over 100 kilometers, climbing into pine forests, slowing for cows who invariably would decide to cross the rails just as we approached. We rattled through narrow tunnels thick with the stench of bat guano and saw a close-up of rural Mexico that was fascinating.
At the midway stop, an old logging camp, our hosts brought out what looked like a plow disc with legs. In fact, that's what it was. A fire was built under the disc, and a local dish called a "discada" was prepared, with beef, onions, potatoes and spices. Bowls of guacamole, cilantro, tomatoes and a spicy sauce called "pico de gallo", along with piles of fresh tortillas, all made the job of building our own tacos fun and delicious.
Each time we thought of leaving Casas, someone would come up with another place we just had to see or something we
must do. Following pot-holed dirt roads west into the mountains, we visited remote cave dwellings once inhabited by the ancient Mogollón culture.  We passed through small villages where farmers still plowed with a horse or mule. Stopping for a night at Rancho Terraceño, a round-up was going on, and we helped brand and vaccinate calves the next morning.
On twisting roads, we crossed narrow suspension bridges spanning river gorges and camped in beautiful pine forests. Arriving in the lumber town of Madera, we learned that there were an estimated 300 cliff and cave dwellings nearby. Some theorize that they may have been Paquimé defense outposts or stopovers on distant Pacific trade routes. We met Saúl Torres Amaya and his brothers, Carlos and Jaime, who jointly operate Conjunto Mogollón Servicos Turisticos. Saúl offered to show us some of the more interesting archeological sites.
Cueva de la Serpiente, "Cave of the Snake", was accessed by a log chicken ladder leading down a narrow crack in a canyon wall. The cave itself was actually built under a natural arch, which opens to both sides of the cliff. Cueva Rancherías was reached by a beautiful trail that wound up a box canyon. This site is on private ranchland, and is seldom visited by anyone, adding to its intrigue. Both of these cave/cliff dwellings were in surprisingly good condition, considering their age. Halfway back to the trailhead parking area from Cueva Rancherías, we stopped at a hot spring gushing out of the hillside. Fortunately we had brought our bathing suits. It was a unique experience to stand in the wilderness under a bathtub-warm waterfall!
In the end, our imagination had been captured by the fascinating land of the Paquimé, so close to the border yet so undiscovered. We have organized a route that retraces much of our original adventure, and in 2006 we lead a small group of like-minded backroad touring enthusiasts into this area.