The Giants of San Ignacio Lagoon
THE GIANTS OF SAN IGNACIO LAGOON

Close Encounters with the Pacific Gray Whale
Author: Gary Wescott / Photos: Gary & Monika Wescott
We sat patiently in the 22-foot Mexican fishing skiff that seemed to get smaller the farther we got from shore. We were in the middle of the emerald green San Ignacio Lagoon, near its mouth where it opens up into the Pacific. As we waited, the little outboard engine idling quietly, we could hear and see whales breaching and spouting all around us.
We had come to see the Eastern Pacific Gray Whales (eschrichtius robustus) up close; very close! They migrate every year by the thousands to Baja California's remote Pacific Coast to mate and give birth to their young. There are three primary locations where gray whales congregate, Laguna Ojo De Liebre, (Scammon's Lagoon), near Guerrero Negro, Bahía Magdalena further south, and here, in Laguna San Ignacio, just 35 miles from the historic mission oasis town of San Ignacio.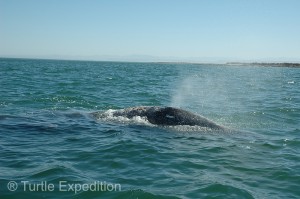 Suddenly, out of the depths, a huge gray, barnacle-encrusted form surfaced next to us. It is a rather startling feeling to have eye-to-eye contact, a mere two feet away, with one of the largest mammals on earth. It was a mother. She gave us a cursory inspection and came up to the edge of the boat for a pat on the head, blowing a shower of saltwater into the air with little concern for anyone's camera gear. Assuring herself that we were harmless, she submerged briefly and brought her new baby up for a visit, nudging it up to the boat for a pet. They hung around for several minutes. Unfrightened by our squeals and laughter, they seemed to enjoy the human contact.
The pattern repeated itself for a couple of hours, the maximum time our skiff was allowed to stay in the area. We had come to San Ignacio Lagoon after fellow Baja travelers had told us that it was the most "whale friendly" location. In fact, our guide, Pachico Mayoral, had been the first to touch whales and guide others for the experience over 36 years ago. His son, Jesus Mayoral, now runs Pachico's Eco Tours. Pachico Mayoral and his wife have lived year-round on the lagoon for 40 years.
The gray whale can reach 45 feet in length and weigh 40 tons. It was sometimes hard to remember that these were mammals. The young are born live, and at a length of 15 feet, can weigh 1,100 to 1,500 pounds. Nursing on milk that is 53% fat, (human milk is 2% fat), they can gain 50 pounds a day. And in case you forgot, all this goes on under water.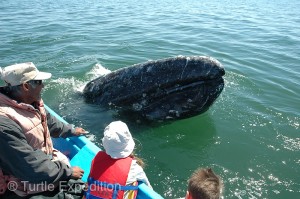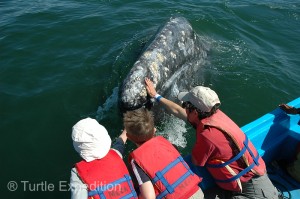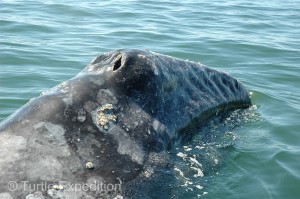 Just as we were about to leave, a male breached nearby. He rolled around, giving us the once over, sort of showing off. Finally, he came up for his pet, and as he left, he gave the boat a little bump, just to show us who was watching whom.
There are a number of tours offering gray whale encounters at San Ignacio. Since we had our own self-contained Tortuga Expedition Camper, we had the luxury of driving the graded gravel road to Pachico's Eco Tours camp on the lagoon. The road varies from very good to washboard, and is regularly used by normal passenger cars. The first section was paved. It may be all paved as you read this. There are no hook-ups at Pachico's Eco Tours, but there is a great solar shower and very clean eco-style toilets. The camp is well lit by 12-V DC power. We had arrived late in the afternoon, and were joined shortly by a German couple with their two children traveling in a 30-foot Winnebago.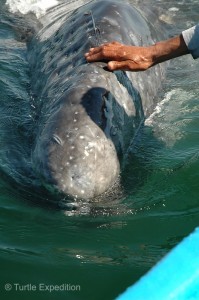 A close encounter with a gray whale is something you will never forget!
Guests with their own RVs can camp for $5 on the water's edge, or stay in small cabins. We could prepare our own meals, or enjoy the camp chef's wonderful Mexican dishes. Water is trucked in for camp use, and purified water is used for cooking and drinking.
Stretching sixteen miles into the desert, San Ignacio Lagoon was originally discovered by whaling captain Jared Poole, brother-in-law to captain Charles Melville Scammon. Treacherous sand bar shoals and a narrow shallow water passage into the lagoon provided a protective haven for the whales, but enough whaling ships found an entrance, and these marvelous animals had been hunted to near extinction by the 1850s and early 1900s. Given full protection in 1947 by the International Whaling Commission (IWC), the gray have made a remarkable recovery and now number between 19,000 and 23,000, probably close to their original population size.
Further protection and regulations were set in place in 1988 when Mexico established the enormous El Vizcaíno Biosphere Reserve to include San Ignacio Lagoon, Latin America's largest wildlife sanctuary. San Ignacio Lagoon is the last and only undeveloped nursery and breeding ground for Pacific Gray Whale. It is also a critical habitat for the nearly extinct Berrendo or prong-horned antelope and an important feeding habitat for four of the worlds seven species of sea turtles: leatherbacks, hawksbills, green turtles and Olive Ridleys (all endangered). In 1993 the United Nations declared San Ignacio Lagoon a World Heritage site because of its importance to the world community.
The Mex. Highway 1, from the border to San Ignacio is in very good condition. It is mostly 2-lane, though it can feel narrow if your RV is eight feet wide. That said, we saw many large motorhomes, trailers, and campers on the road. Fuel is widely available, and considerably less expensive than in the U.S. At the time of this writing, diesel was $2.10 a gallon, compared to over $5.00 in California.
From the Tijuana border south of San Diego, California, it's 532 miles to San Ignacio. There are comfortable RV parks along the way, in towns like Ensenada, Valle de San Quintin, Cataviña, El Rosario, and Guerrero Negro. The old oasis Rancho Santa Ines, 299 miles from the border, just south of Cataviña, is a good mid-way stopping point where many RVers overnight.
The occasional headlines in the news about highway robbers and bandits are enormously overplayed by the press. Baja is one of the safest and friendliest places to travel in North America, period! Surely the most dangerous part is getting through the Los Angeles freeway system.
Virtually every commodity you might find at Wal-Mart, Safeway, Smart & Final, or Home Depot can be found in Baja, often at the Wal-Mart, Safeway, Smart & Final or Home Depot stores in Ensenada. In case you forgot something, every village has stores that sell food and bottled water.
There are no vehicle papers needed in Baja. You will need mandatory liability insurance. Traveling south of Ensenada, you will also need a Tourist Card, stamped at the border. Getting this at the border is a real adventure. The Discover Baja site has a wealth of information. You will need a Passport to reenter the U.S.
Arriving in the small town of San Ignacio, we parked on the shady Plaza in front of the historic church, one of the best-restored missions on the peninsula. There are half a dozen RV parks, but many would never pass the Good Sam's Club test. We stayed a night at the friendly but rustic Camping Los Petates on the fresh water lagoon. It's close to town and the nightly serenade of bullfrogs was amusing. In search of a dump station and wireless Internet, we moved on to Rice & Beans. Their new modern RV Park with full hook-ups is destined to become one of the best in Baja, and the Rice & Beans restaurant is a great place for dinner and a margarita. Wireless Internet is a plus.
There is also free wild camping just off the beautiful plaza behind the museum, and there are several hoses around the plaza and next to the church where you can fill up your water. Tap water in this part of Baja is usually safe, but a good purification system like the Everpure we use is a prudent precaution.
If you're not inclined to drive the 35 miles out to the San Ignacio Lagoon, there are taxis in town. If you have more time, this is also the jumping off place to visit the fabulous cave paintings in the canyons of Sierra San Francisco,  (also a World Heritage Site). The museum next to the church has information.
Whale watching tours generally run from January 15th to April 15th. By mid-March, the males begin to leave, and the females move closer to the outer lagoon to feed and nurse their young, preparing for their 5,000 miles trip back to the Bering and Chukchi Seas of Alaska. We were there in late March, and a least five or six mothers came up to our "panga" for a visit. A close encounter with a gray whale is something you will never forget!