China # 23 – Beijing's Forbidden City – September 2014
October 12, 2018
Moving on, we passed through the Tiananmen Gate to reach the Forbidden City. There are five massive doors to the gate and seven bridges spanning moats or streams. It was from this Gate on October 1, 1949 that Mao Zedong proclaimed the People's Republic China. The dominating portrait of Mao is a must photo background opportunity for Chinese selfies.
The Forbidden City
The Forbidden City is the former Chinese Imperial Palace from the Ming and Qing dynasties (1420-1912). It covers 178 acres. It's called The Forbidden City because during those dynasties, when it was home to 24 different emperors and their households who ruled all of China for almost 500 years, ordinary people were not allowed in without special permission. The main palace took 20 years and one million workers to finish.
Marco Polo' Silk Road travels ended in Beijing
On a side note: In 1215, Zhongdu, the capital of the Jurchen Jin dynasty located in todays Beijing, was destroyed by Genghis Khan, the Mongol ruler. In 1271, a year after his grandson, Kublai Khan, established the Yuan Dynasty that ruled over present-day Mongolia, China, Korea and some adjacent areas, he presumed the role of Emperor of China, the first non-Han emperor to conquer all of China. He built his new winter capital in another section of Beijing. Marco Polo and his dad & uncle left Venice (Italy) the same year to travel to China along the Silk Road (much of which we followed). Three and a half years later, Kublai Khan invited them to his palace where they lived for 24 years before returning home. Marco Polo called the capital "Cambulac" but because Kublai Khan encouraged diversity in his vast empire of many different languages and religions, the capital was also called Khanbalik or Dadu. In 1368, Camulac was destroyed by an emperor of the Ming Dynasty though The Forbidden City was not built until 1420.
The Palace Museum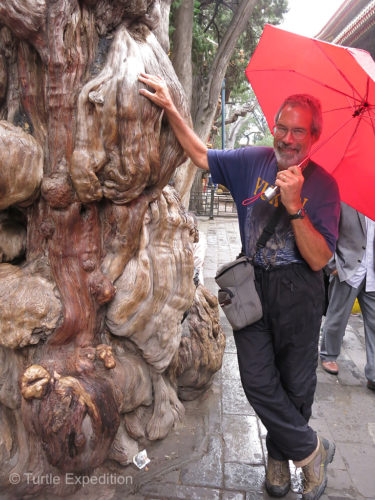 The Forbidden City has been transformed into the "Palace Museum", quite literally a museum of palaces and special halls, and it is open to the public. Some 14 million visit it annually. It is the world's largest palace complex, consisting of many buildings with a rumored original 9,999 rooms. It is protected by a 20-ft deep and 171-ft wide moat, and a 26-ft high wall. Most of the palace rooms can only be seen from the outside. Without walking with our nose in a guidebook, we were impressed by the excess of beautiful carvings, paintings and gold surrounding thrones having been used by the ruling emperors and their princesses. The numerous cast figures of dragons, lions and monster turtles were intriguing. Their purpose was to guard against fire and evil spirits. The architecture was amazing, with each detail having a symbolic meaning. The best we can do is show you what caught our eye. Captions will give some details.
After spending much of the day wandering from one palace or hall to another, we were ready for a late lunch. Green, our wonderful guide, spotted the perfect greasy spoon. Nearby we found an entry into a neighborhood called a Hutong, a special part of Beijing we wanted to visit. See more on Beijing Part 3 (China # 24).