Crete 1, Greece – 2/2014
September 23, 2015
OK, my long Mexican 70th birthday adventure is over except for my memories. Now, as I promised, we are picking up with our Trans-Eurasian Odyssey, which will eventually take us through 26 countries and over 40,000 miles, across impassible deserts and over 15,000-foot mountain passes, through the Stans, China, Mongolia and Siberia. Hold on for the ride.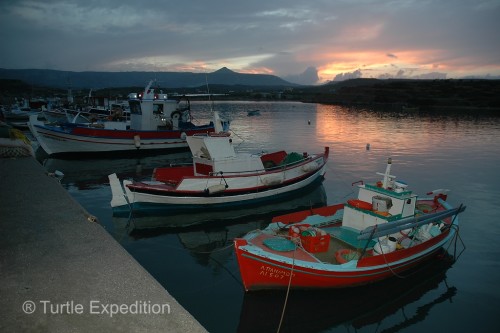 We are back in Greece now, and specifically on the island of Crete. If you missed Delphi, Kalavrita, Dimitsana, Mystras, or Olympia and others on the Peloponnese, they can all be found in the list of past blogs on our web site. Just click on the country you want to visit. Meanwhile, join us as we board the ferry from Pireus to Iraklion on Crete, an island we have wanted to visit for many years. By some accounts, Crete was the heart of what we call western civilization today.
Having been on the road for almost a year and with Spring in the air, we first looked for a place to rest, catch up on travel maintenance and make a plan. It was early February and many campgrounds were still closed for the season. Camp Sisi was too, but as we drove up the driveway, the owner Kostas Tzikas waved to us and opened the gate. We could not have found a better place. Sisi had hot showers, a laundromat, Internet and room to spread out. The nearby town of Sissi with its picturesque harbor was within walking distance. Kostas and his wife both spoke English and were gracious hosts.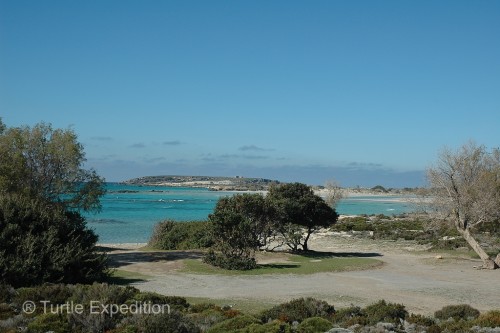 Packed for the road again, we headed first into the mountains to pay homage to the birthplace of Zeus, once considered the father of all gods and humans. He was King of the Olympian Gods and the Supreme Deity in Greek religion for hundreds of years. He controlled the weather, offered signs and omens and generally dispensed justice, guaranteeing order amongst both the Gods and Humanity from his seat high on Mt. Olympus. Even today, given the financial woes of Greece, it would not hurt to sacrifice a few oxen in his name. We certainly wanted to be in his favor as we headed east into Asia.
With Zeus at our side, we were ready for some beach time the island is famous for. Though still a bit chilly for swimming, we found some spectacular camping around the Eastern Peninsula at Váï Beach and Myrtos. Interior hills were often covered with enormous olive groves and the valleys were a sea of plastic covered agriculture. Even bananas were grown in hothouses, but that didn't keep us from enjoying the open markets.
While the lack of crowds of tourists was a relief for us, we vowed to return again in summer with warm weather to experience a different flavor of Crete. Leaving another perfect camp, we headed west to explore more of this historic island.