Ephesus 3 – Pottery, Turkey 12 – 5/2014
July 25, 2016
Even before recorded history, humans have been creating plates, pots, vases and other things from some kind of clay and decorating them for no functional reason other than their beauty. From the Danish Masters who painted the Royal Floral Danica set of dishes (hundreds of them) commissioned by Catherine the Great of Russia to the famous Delft tiles from the Netherlands, the Azulejo tiles from Portugal, the Moorish tiles from Spain to the Iznik tiles we discovered in mosques in Turkey, the art of painting burnt clay left hardly a culture or country untouched. Monika is particularly entranced by this form of art because her mother, Agnes Mühlebach-Flory, was a master porcelain painter in her own rights.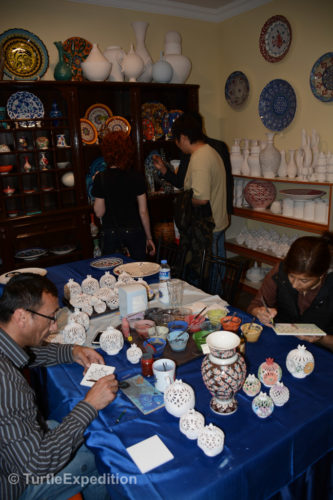 When we arrived at the small town of Selçuk near the ruins of Ephesus, we were just looking for a place to camp for the night. We spotted a large parking area. In the back, it looked like a family of Gypsies was sitting around the camp fire. Hey! Our kind of people. We pulled in and set up camp. Turns out it was not a campground but we could stay the night for five bucks and there was even a guard.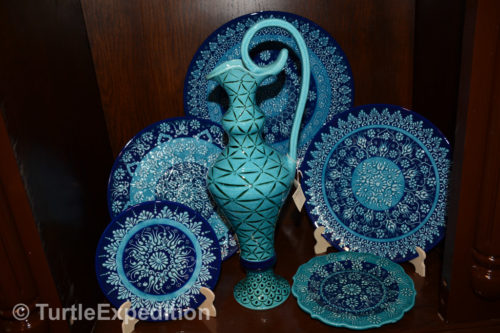 The next day after visiting the Ephesus ruins and later the wonderful silk rug factory we discovered another treasure. The parking lot where we had camped was part of a wonderful pottery factory and school called Ephesus Ceramic Production Center. The artist and teacher, Said Lemghir, invited us in for the tour. The quality of the art we saw was jaw-dropping. Each piece was hand thrown on a wheel and then meticulously hand painted before being glazed.
The photos here might show why we were tempted to buy some beautiful souvenirs at prices only found at the source, but prudence dictated our selections, knowing that many of these plates, while very usable for food, would be better off hung on the wall. When selecting such treasures on the road, we must always consider first, where we can actually display or use them back home and secondly, given the roads we have yet to follow around the world, will they survive in one piece.