Russia #3 – Crossing Siberia 2 – Chita to Khabarovsk – November 2014
March 2, 2019
Leaving Chita, the roads had been plowed and were nearly dry. We made good time. There were very few people or villages now, since previously this was only a "cart road" or nothing; deep permafrost mud in the summer and impassable snow in the winter and no bridges. The Trans-Siberian Highway is the unofficial name for a network of federal highways which span over 11,000 kilometers, (6,800 mi), of Russia, crossing the country from Saint Petersburg on the Baltic Sea (Atlantic Ocean) to Vladivostok on the Sea of Japan (Pacific Ocean). Much of the route parallels that of the existing Trans-Siberian Railway. It is one of the world's longest national highways.
Fellow Travelers along the Amur Highway
Construction on the "Chita-Khabarovsk" road section was started back in 1977 by the military. By 2004 it was officially opened with gravel and in 2010 it was mostly paved. In a famous PR junket, Vladimir Putin drove a short section of the newly-finished Amur Highway in a yellow Lada. So now there was a thru route, except for a few muddy detours and bridges being rebuilt. On a road like this, like the Alaskan Highway, it will always be "under construction".
A village called Never
The only stop we made of interest was Never. This ramshackle town seemed mostly abandoned. No gas station, only a small store. Back in 1996, before the highway was completed, this was the turnoff for a gravel road north to Tynda. We were told that hundreds of right-hand drive cars from Japan were smuggled in past customs to Yakutsk on the Lena River. The small houses were the classic style we had seen all over rural Russia, with their pretty hand-painted window frames. You could probably rent one for almost nothing.
Blizzard, snowy roads and black ice
There were occasional turnouts where trucks stopped overnight and we took advantage of those. On one occasion, someone had abandoned two cute puppies. We gave them some bowls of warm milk & bread and they loved it. Russian truck drivers were always friendly and excited to see our truck. Getting diesel was not a problem, but we had to make sure we were using the pump with the lowest temperature grade of "winter diesel" available. Even then, we still added Amsoil Diesel Cold Flow and Diesel Injector Clean additives if there was any question. "Summer" diesel had lubricants that would freeze and clog up our fuel filters.
A nice Welcome to Khabarovsk
As another approaching blizzard became more threatening, we again locked the hubs. In the extreme cold I had to use a crescent wrench to turn the lock knobs on our Dynaloc Hubs. Battling near whiteout conditions, we stopped early. The temperature outside was -18°F (-28°C). Our dual-pane Dometic Seitz windows helped keep the cold out, but our little single-pane window on the door iced over in the morning. We slept warm with our Eberspaecher Airtronic humming away on its maintenance mode. The honeycomb Nida Core walls, floor and ceiling of The Turtle V have a high insulation R-value rating.
Serious Trouble struck one chilly Morning
In the morning, after preheating the engine with our Eberspaecher D5 Hydronic Coolant Heater, the engine started quickly, pushing warm air into the cab. From where we were parked, I made a quick sharp U-turn. I had forgotten that the power steering system was not being warmed by the engine. There was a disturbing "squeal" and a "whoosh" sound. A seal on our power steering hose had blown or a hose had ruptured in the cold. A yellow puddle of power steering fluid in the snow made the possible disaster obvious. I quickly refilled the remote power steering reservoir, and after warming up the system, the blown seal miraculously repaired itself. Wheeeeeue!!! I was wondering where I might get a new hose made at a hydraulic shop in the middle of Siberia—in the middle of nowhere. Joke!!
Thermidors/Utilidors
With great relief, we continued onto Khabarovsk the next day. Khabarovsk is the largest city and the administrative center of Khabarovsk Krai. Just 30 kilometers, (19 miles), from the Chinese border, it sits at the confluence of the Amur and Ussuri rivers. It is the second largest city in the Russian Far East, after Vladivostok.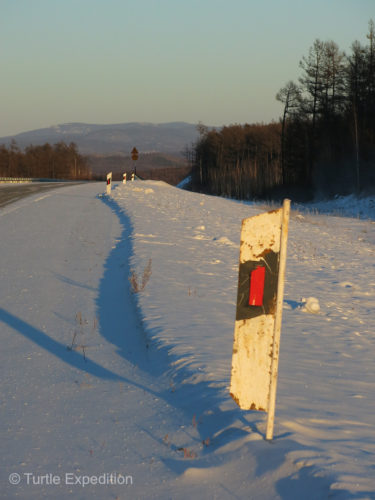 Arriving at night, the temperature was way below freezing, but people were still walking around and shopping. It reminded me of some Russian sayings. "It takes twenty dumb animals to make a fur coat, (mink, otter, fox, rabbit), but only one dumb animal not to wear one." And, "There is no bad weather. Only people wearing the wrong clothes." We donned our North Face down jackets and Sorel winter boots and joined the locals on the street. We had found a perfect place to park for a night or two just across from a supermarket. In the morning a man was selling fresh milk in front of our truck and he gave us a complementary liter as a welcome gift. A few blocks away we found a place where locals were getting water and we were able to filled our tank, one 5-gallon bucket at a time. With a little time to spare, we stayed an extra day to relax from our grueling drive. The next leg to Vladivostok was only 759 km, (471 miles), so if the road was plowed we could make it in a day—-or two. Heading south now the weather should improve.