China # 12 – Heading towards Xi'an, City of the Terracotta Warriors – September 2014
July 20, 2018
Leaving Xiahe and the Labrang Tibetan Monastery, the scenery varied from terraced fields to more of those massive apartment buildings that appeared to be unoccupied. Road signs were a continuous amusement. Outside of Pingliang we were reminded that if there was any flat place bigger than half a basketball court, someone had planted something. By luck we managed to exit the toll road and found our way into a small rural village where we pulled off into a wide spot alongside the road for night. Quiet but raining, so poor Green opted to sleep in the cab again.
Odd Chinese Habit
Locals came out to inspect our vehicle and immediately wanted to clamber into the camper while we were eating dinner. Quickly, we pulled up the electric step. By now even Green was tired of explaining that this was our private home and we were not comfortable having so many visitors inside the camper. We were still amazed that this was apparently perfectly normal to do. One old woman was very upset "about our rudeness" and for quite some time, lamented loudly before retreating into the pouring rain.
Bin County Cave Temple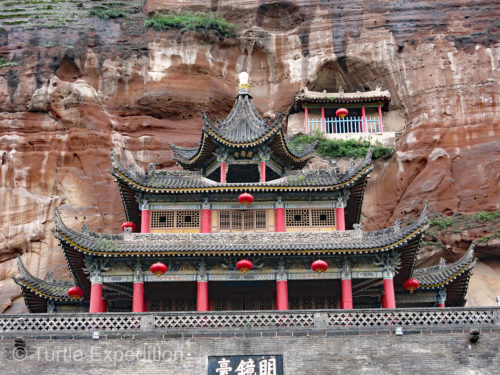 As we mentioned in our last Blog, we had not marked the Bin County Cave Temple on our maps, but when you have a guide as knowledgeable as Green, you listen to her advice. (Maybe she just wanted to see it!?) It turned out that the Bin County Cave Temple was an important stop on the Silk Road we were following. Started in the 5th century and completed in the 7th to the 10th centuries, it is located in the town of Chengguan, near Chang'an, the capital of Tang Dynasty, and contains the largest clay sculptured Buddhist figure in the area. Buddhism was introduced into China from India, possibly along the Silk Road.
In total there were 116 caves constructed on the sandstone cliffs that rose above the Jing River Valley. The caves were divided into five groups: Great Buddha Cave, Thousand-Buddha Cave, Arhat Cave, Monk's Quarter Cave and Zhangba Buddha Cave, with a total of 466 niches and over 1,980 statues. Many of the caves were reached only by precarious foot holds carved in the sheer cliff. No, we did not see those!
Honestly, we were getting a little "Buddhaed-Out. We did find a reasonable hotel for Green, which she deserved, and there was good parking of us. It was Green's turn to cook, she loved our kitchen, and that poor chicken we bought a few days ago met its final end. Green believed that eating the head would make you smart, so we gladly obliged her and the feet were apparently a delicacy in China as well. Our next destination was the much anticipated city of Xi'an, home of the famous Terracotta Warriors and the official end of The Silk Road.