Gary's Birthday 2 – 1/2015
August 19, 2015
So now you're looking at news with a slight time delay. Following our visit in San Diego and with our truck and car safely stored at our friends' home, the next day we found ourselves sitting in the waiting room at the Los Angeles airport. What a zoo, except no monkeys and elephants. We ended up in a section that was being rebuilt. It looked like something in a third-world country. By the time we got through security we had also missed all the overpriced fast food shops so the only thing edible was in coin-operated vending machines. I think a ham sandwich, a salad and a glass of bad red wine cost about $50 bucks for two! We did score one of the three tables. It gets better.
After a comfortable flight on Aero Mexico we waded through the process of renting a car and headed for the cute hotel we had stayed at years before. The San Francisco Plaza Hotel was a perfect location, walking distance to downtown Guadalajara with all its gardens, museums and government buildings, and just a few blocks from the main giant open market and perhaps most importantly, the Mariachi Plaza.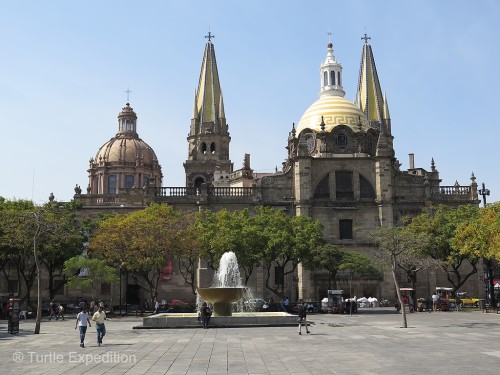 Cousin Carol and her husband Doug arrived on a later flight so we had our welcome ceremony in our room with a glass of box San Ramon wine and chips & salsa. A Walmart (yes!) was just a few blocks away. Carol & Doug appreciated that we are experienced budget travelers.
In the morning after coffee in the beautiful garden patio beneath the rooms, we donned our walking shoes and headed for town. Guadalajara is one of the most beautiful cities in Mexico, famous for its plazas, cathedrals and old colonial buildings. By chance as we entered the Teatro Degollado, the concert pianist for the evening, Jorge Federico Osorio, was warming up with a little Brahms. It was like a private performance just for us.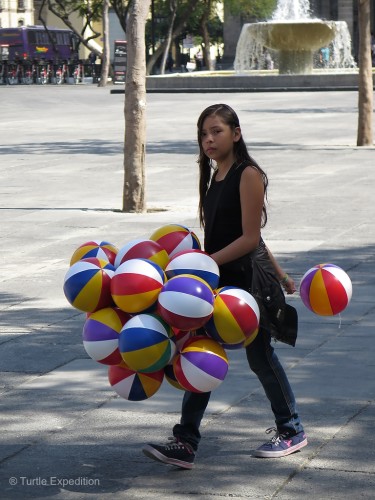 After a couple of visits to other government buildings to gasp at the incredible murals, it was siesta time and we knew where lunch was waiting. The giant three-level Mercado de San Juan de Dios (also called Mercado Libertad) has an array of tempting little food stalls to die for. After wandering through the isles of vegetables and butcher stalls, we found the perfect place to introduce Doug to his first Pozole, a very typical spicy hominy and pork soup.
Before heading back to our rooms for a short nap we picked up some fresh fruit for breakfast the next day. As expected, the selection of papayas, mangos, guayabas (guavas) and other tropical fruit was amazing. The question of "What do you eat in Mexico?" was easy to answer. Everything!!