South Korea #9 – Food – December 2014
April 12, 2019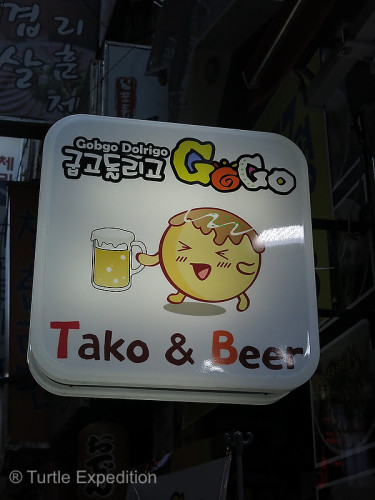 If there is one thing that makes travel in foreign countries exciting it's the food, and Korea has some of the most interesting dishes we had experienced in the 22 countries we crossed to this point. We always like to taste local cuisine. In Korea it's easy. Just walking down the street, restaurants had their menus posted outside. Now at first glance, most of the things in the pictures did not look particularly appetizing to our eyes. In some cases they looked more like bait than food.
How to order food in a South Korean restaurant?
Point at a photo.
Finding a menu that was tempting, (we couldn't read a word of it), we went inside and were graciously seated at a table. Being unaccustomed to sitting on the floor with our legs crossed, we sometimes opted for a restaurant with chairs and tables. We pointed on the menu to the photo of the dish we thought looked good and from there it went to the kitchen. Everything was scrupulously clean.
Once we ordered a grilled mackerel. It came accompanied by a variety of small dishes and a plate of Kimchi. Kimchi is a national Korean dish consisting of fermented Chinese cabbage, chili peppers, vegetables, garlic, ginger, and a salted fish sauce. Health Magazine has cited Kimchi as one of the world's five "healthiest foods", with the claim that it is rich in vitamins, aids digestion, and may even prevent cancer. We tried several versions but never found one that we really liked. It's an acquired taste.
Back at our table, in a few minutes the waiter brought a large wok and a propane heating plate. He then prepared the dish stirring and mixing all the spices and ingredients together. By now it looked nothing like the photo we pointed to, but it smelled great and tasted even better. The aroma of seaweed, ginger and chilies was enticing. If it was a soup type dish they gave us spoons. Otherwise we were stuck with chopsticks. I (Gary) would probably raise a smile from the waiter if I brought in my own fork but it's not a bad idea.
Sampling tempting Street Food
For just a snack, the streets were teeming with fast food stands. We found everything from French fried sweet potatoes to hot dogs on a stick to something like an omelet cooked in a seaweed broth. There were some unique desserts like "Strowberry Amond" or "Bapple Cinnamon" Waffles. Never mind the funny spelling. For dessert, the little custard-filled puffballs were delicious.
Soju – the popular Korean alcoholic drink
By far the most popular Korean alcoholic drink is Soju. There are many different varieties from a light rice wine to vodka-like liquor. We did visit the nationally famous Soju distillery in Andong that produces a version using traditional methods and typically running 90 to 100 proof. With its government protection/regulation seal, it commands more than 20 times the price of the light Soju every little corner grocery store sells. Feeling a little homesick, we found an occasional bottle of California wine in the popular chain of "7-Eleven" stores. (There are 7,064 7-Eleven stores in South Korea).
Since we do most of our own cooking, we headed for the open market. After all, that's where the food comes from. More on that in the next blog.