South Korea #2 – DMZ – UN Memorial Cemetery – December 2014
March 19, 2019
Tearing ourselves away from our comfortable campsite in the beach town of Samcheok, we headed north to the DMZ, (Demilitarized Zone – East Coast). Just to give you a little history, at 4 o'clock in the morning on June 25, 1950 North Korea carried out a sudden attack against South Korea led by Russian tanks. That was the beginning of the Korean War. Countries from around the world came to South Korea's rescue. Under the banner of United Nations Forces, 40,896 soldiers from 17 Countries gave their lives to protect the Republic of Korea against the communist aggression. (Under the UN banner there were actually 16 nations – plus South Korea – actively fighting, 7 countries supplied medical support and 5 countries other support.)
The DMZ (Demilitarized Zone)
divides the Korean Peninsula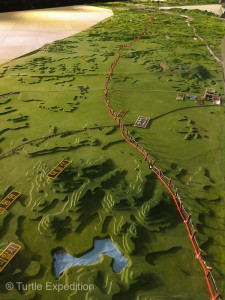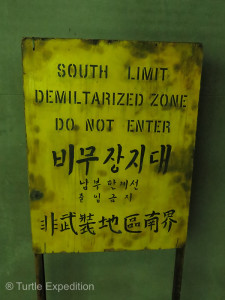 The DMZ cuts the Korean Peninsula roughly in half, crossing the 38th parallel on an angle, with the west end of the DMZ lying south of the parallel and the east end lying north of it. It was created as part of the Korean Armistice Agreement between North Korea, China, and the United Nations Command Forces in 1953. But the "war" is not over. 28,500 United States Forces Korea (USFK) troops still assist the South Korean military in guarding the DMZ. ——We did not see any US forces but the South Korean Army certainly made its presence all along the east coast (where we traveled)——South Koreans see the U.S. military presence as a sign of Washington's steadfast support in the event of a North Korean offensive and we hope this still holds true in 2019. Sporadic outbreaks of violence due to North Korean hostilities killed over 500 South Korean soldiers and 50 U.S. soldiers along the DMZ between 1953 and 1999.
North Korea is still a serious threat
Coils of razor wire along the beaches and costal highways were clear evidence that the threat from North Korea is still very present as we found out in Samcheok. We were told that North Koreans sneak up the beaches at night and on occasions, there had been shoot-outs between military and invaders. The excellent DMZ Museum near the entry to the controlled zone was a real education.
We filled out all the necessary forms and received our pass to drive as far as the Unification Observatory north of the village of Myeongpa. We were not able to actually see any of the military posts, but the viewing deck left much to our imagination. The natural isolation along the 250 km (160 mi) length of the DMZ has created an involuntary park, which is now recognized as one of the most well preserved areas of temperate habitat in the world —- except for the land mines.
The United Nations Memorial Cemetery
A couple of weeks later, we visited the UN Memorial Cemetery of Korea, (UNMCK), in the city of Busan. Beautifully landscaped, in 1973, the cemetery was transferred from the UN to the Commission for the United Nations Memorial Cemetery (CUNMCK. To this day maintained by UN service personnel, it is the only UN cemetery of its kind in the world. The Wall of Remembrance was especially impressive, with the names of the 36,492 Americans and 4,404 other nationalities who died in the fight for South Koreans' freedom, many of whom were buried on sight. An eternal flame burns over a reflection pool.
Honor, Freedom, Peace
It was a tragic war and a terrible loss of men and women, but looking at South Korea today, the monument in the American section says it all. "HONOR, FREEDOM, PEACE". It's a goal that seems to have been reached in this modern nation.