Gary's Birthday 3 – 1/2015
August 23, 2015
Now we're getting to Gary's real birthday celebration and some of you may be thinking, "You must be crazy going to Mexico, yes?" Despite all the horrible warnings from the State Department about where not to travel in Mexico, if you had to go, the worst places were probably the states of Jalisco and Michoacán. I am happy to say that despite all the yellow press and warnings about the dangers in Mexico, it still remains one of the safest places in the world of travel. To date we have not been robbed, kidnapped, threatened or ripped off.
When I was asked what I wanted to do for my 70th birthday, aside from hiking to the Everest Base Camp or hot air ballooning over the Serengeti, I said I wanted sit in the Mariachi Plaza and listen to the Mariachis play songs that I can remember when I lived in Mexico as a child. That's what started this whole chain of adventures.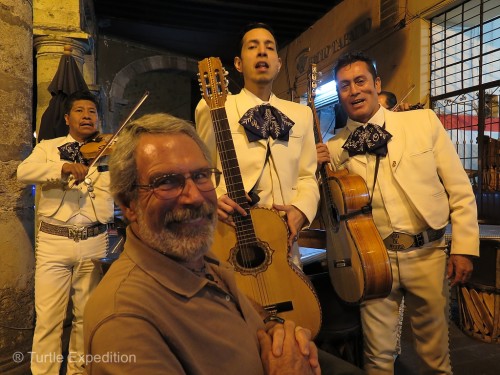 While almost everything in the world seems to change, often for the worst, and Mariachi Plaza next to Guadalajara's Mercado Libertad remains much as it was 60 years ago years ago. I remember it well, living in Chapala just 35 miles south of Guadalajara. It was a place we always took visitors.
After a traditional shot of tequila, (maybe two), we walked a few blocks from our hotel to the Plaza. Mariachi music is something that is part of the heart and soul of Mexico and specifically in the States of Jalisco and Michoacán. It is as much a part of Mexico as tacos. While you can find Mariachis almost anywhere there are festivities going on, the Plaza is a place where several of the different groups congregate. They can vary in size from 3 or 4 musicians to 10 or 12. As they wander through the tables where locals are celebrating birthdays, anniversaries, baptisms or just a fun evening out on the town, they are roving troubadours, charging by the song.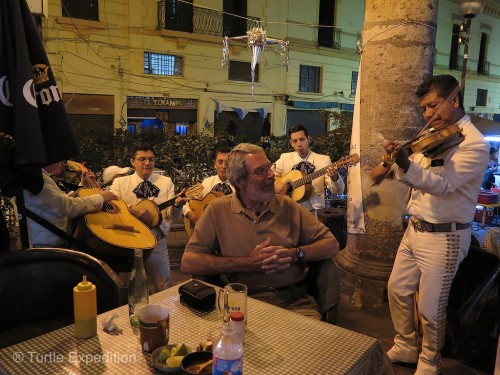 After a quick walk around the Plaza, Monika discovered a group that was one of the best; 3 guitars, 2 bases, 2 violins, a little Requinto and 2 trumpets. All the guys wore the classic Mariachi outfits, which told us that they were a unified group and practiced together. When they found out that it was my birthday they immediately broke into Las Mañanitas, the beautiful Mexican birthday song. I had a few requests of favorites and they knew all but one. After a second cold Corona I could even remember the words to a couple of them.
It was definitely exactly what I had wished for. (How often does that happen?) As they moved on to play for another party we headed for one of my favorite places in the world to eat. Yep, you guessed it. One of the safest places in Mexico to eat is the street taco stand. It was a birthday I will not soon forget.
Some of you may recall our motto: "Don't take the trip. Let the trip take you!" With that in mind, we headed northwest to the town of Tequila and the land of the blue agave.