Gary's Birthday 4 – 1/2015
August 26, 2015
We could have stayed in Guadalajara for a week, but other adventures called. Tequila!!! It had been years since Monika and I had been to the town of Tequila, a short drive northwest of Guadalajara.
Tequila is a regional specific name for a distilled beverage made from the blue agave plant, primarily in the area near the city of Tequila. The fields of Agave that surround the town form part of the UNESCO World Heritage Site, Agave Landsape and Ancient Industrial Facilities of Tequila. The red volcanic soil in the region is particularly well suited to the growing of the Blue Agave, and more than 300 million of the plants are harvested there each year.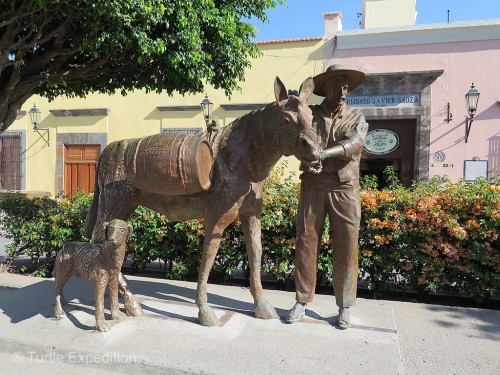 Although tequila is a kind of mezcal, the standard for good tequila uses only blue agave plants. Mexican laws state that tequila can only be produced in the state of Jalisco and limited municipalities in the states of Guanajuato, Michoacán, Nayarit, and Tamaulipas.
Agave plants, like grapes or olives, grow differently depending on the region. Blue Agaves grown in the highlands of the Los Altos region are larger in size and sweeter in aroma and taste. Agaves harvested in the lowlands, on the other hand, have a more herbaceous fragrance and flavor.
What this means is that if you buy a bottle of Tequila, it could come from anywhere, BUT, if it does not state on the bottle "100% Blue Agave", you don't know what you're drinking. Tequila is most often made at a 38%–40% alcohol content (76–80 U.S. proof), but can be produced between 31% and 55% alcohol content (62 and 110 U.S. proof). A couple of well-blended Margaritas can spin your head. For comparison, most wine ranges from 12% to 15% and beer is around 5%.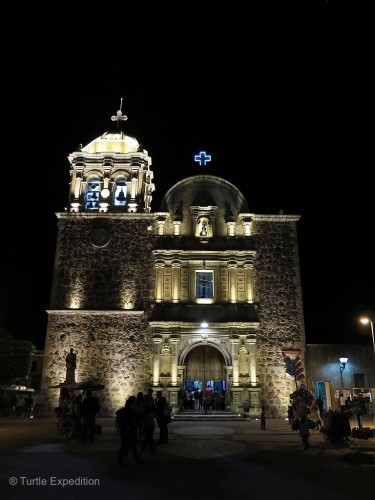 The first time I drove into Tequila in our 1967 Land Rover, back in 1974, the streets were still all cobblestone and kids ran behind us, hanging onto the rear tire mount and trying to get us to take a free tour at either the Sauza or Cuervo Tequila distilleries. There were only two in town, and we were the only tourists around. Today there are a dozen or more that charge for a tour and with the explosion of Tequila's popularity, including "yuppie blends" like Patron for $30-$50 a bottle, the little town has prospered under the daily influx of tourists from any of the more than 40 countries where the liquor is recognized as a Mexican designation of origin product.
Happy to say, the town has cleaned up a bit, but it still has the flavor of Mexico, with the church and the plaza being the center of activity. We found a nice hotel on the plaza and did the tourist route, a tour, always interesting, educational—and fun. Back in our room after patronizing a couple of the street taco stands, we mixed our own Margaritas—better than most bars and restaurants. The simple recipe if you're taking notes: 1 part freshly squeezed lime juice, 1 part Triple Sec or Cointreau, and 2 parts Tequila. Mix or shake with ice. Do not blend into a snow cone. Serve in a glass or cup with a lightly salted rim. Don't drive afterwards.
Making a U-turn back through Guadalajara, we headed for Lake Chapala and the town of Chapala where I had lived for two years as a kid.