Granada & La Alhambra, Andalucía, Spain 10/2013
November 26, 2013
We are in Granada now, a city that always had sort of a magical ring. "Welcome to the Monumental Complex of the Alhambra and the Generalife". That's what the brochure reads we picked up at the gate. Certainly "monumental" and "complex" are accurate terms to describe this maze of towers, palaces, windows, arches, fountains, intricate water channels and gardens.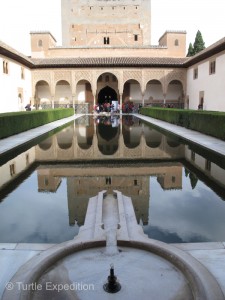 From 1237 to 1273 Muhammad I, founder of the Nasrid Dynasty, installed his Court on the Hill of Sabika and started construction of the Alhambra. Since that time, a long line of Rulers, Sultans, Caliphs, Catholic Monarchs and Kings continued building. Later, in 1923,  any number of academicians and archaeologists began with its restoration and in 1984, Alhambra was designated as a UNESCO World Heritage Site. Apparently the word got out because around 7,000 people visit every day. Even reservations online were booked two days in advance, and that was in the off-season. We stood in line in the darkness of 6:30 AM in the hopes of getting some of the 2,000 first-come first-served tickets that are sold each day at 8 o'clock.
I love analogies. If I were to make one up for Alhambra, try to imagine all the chocolate factories you can name; Hershey, Lindt & Sprüngli, Valhrona, Neuhaus, Leonidas and Godiva, and put them all under one roof. Now visit this complex of five or more chocolate factories on the same day and taste as much chocolate as you want from each one. In other words, La Alhambra is overwhelming.
No one can deny the amazing workmanship, the incredible art, the millions of hours of labor it took to design and build and restore La Alhambra from 1237 to 1936 when most of the restoration was completed, a monumental task which is in fact, never finished.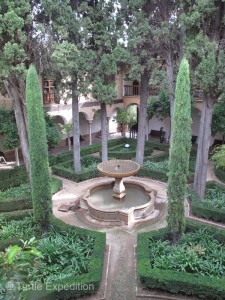 Following our march route given to us on our entry ticket, (There are certain parts of the complex where entry is controlled by time.), we entered at about 8:15 AM and left just after 1 o'clock with the feeling we had seen most of it. In the end, the Godiva chocolate tasted just about the same as the Lindt & Sprüngli or the Hershey—or was that Leonidas?
I have to say that after wandering through the "Monumental Complex of the Alhambra and the Generalife", I was impressed by its sheer size and somewhat underwhelmed by its complexity. But that's just me on that day. Perhaps, having seen so many incredible castles, churches, cathedrals and palaces in the past two months, I am becoming a little jaded.
The overall feeling is that if all the gold and silver and man-hours that have been spent on castles, churches, cathedrals and palaces by the many Rulers, Sultans, Catholic Monarchs, Kings and Dictators in the past 2,000 years could be added up, the entire national debts of England, Germany, Belgium, France, Portugal, Spain, Greece and Switzerland, (if they have one), could be paid off with change. We are the ones now who get to enjoy these monuments of societies past.
Hopefully the pictures here will give you a glimpse of the incredible Alhambra, but if you really want to see it as we did, you'll need to get in line with the other 6,999 people that come everyday. Bring your camera and some good walking shoes.
As for us, it's time to clear our heads and point The Turtle V towards a beach on the Mediterranean…..