Mongolia #7 – Visas and Suspension – October 2014
February 8, 2019
With the excitement of the Golden Eagle Festival over, we were quickly brought back to reality and the fact that The Turtle V had a serious suspension problem. The good news was that repair parts from Hellwig Products in Visalia, CA were waiting to be sent. The bad news was that there was nothing remotely like DHL, UPS or FEDX anywhere close to the "middle of nowhere". They had to go to an address in Ulaanbaatar, the capital, and being in "middle of nowhere", we did not have an address in Ulaanbaatar. The good news was that there were regular flights from the "middle of nowhere", and having found a very safe place to park our truck at the Travelers Guest House yurt camp, we were on the next plane out. The flight gave an interesting prospective on the road we had just driven.
Flight from Olgii to Ulanbaatar
Once in the capital we quickly established an address to where the parts could be shipped. In the meantime, we learned that US citizens, who do not need a visa for Mongolia, have to register within five days. Well, I was a little late and ended up having to file a bunch of paperwork and later pay a fine at the border. We were also waiting for the invitation needed for a Russian visa from a friend in Moscow. That too was being mailed as we settled into a small Airbnb type apartment close to the center of the sprawling city. We had a shared kitchen and nearby super markets sold products we would expect to find in Europe. We waited and caught up on emails, blogs and sorting photos.
Hellwig Spare Parts
In 1996, we had spent time Ulaanbaatar and it had grown considerably. It was still a friendly city to get around in. We were warned that the homeless boy-gangs were quite active and were incredibly clever at ripping unsuspecting tourists off. We had expected to return to Olgii within five days but that would not be the case and we had to cancel our return flight. The Hellwig spare parts arrived first. We had to take a bus to the airport to retrieve the package from customs after completing some paperwork and pay an import fee. We will never know what route the "Express" package took. We could see, with a grimace, that the final carrier was none other than Pony Express—-no joke!
Russian Visa Invitations
The letter of invitations for the Russian visa should have arrived at the same time. It didn't. Both we and our friend in Moscow were starting to worry. Over a week passed and still nothing. Then, on a Friday afternoon, it finally showed up at our apartment, but it was too late to go to the Russian Embassy that day.
Ulanbaatar Culture
Making the best of our extended stay; we visited the National Historic Museum, some of the impressive Buddhist temples, the Sunday outdoor flea market, a wonderful Mongolian dance performance, and strolled around the spacious downtown plaza. As chance might have it, hundreds of locals had gathered to celebrate an Ulanbaatar anniversary. After music and speeches, everyone received a piece of an enormous birthday cake. With Antonello and Sara, a fun couple from Italy who were traveling around the world, we enjoyed some great Mongolian food. Ulaanbaatar just happens to be one of the best places in the world to buy cashmere products; hats, sweaters, scarfs and other incredibly warm and soft apparel. One non-profit store, Tsagaan Alt, is working with 12 co-ops employing 250 disadvantaged individuals.
Rediscovering Gana's Guesthouse
When we arrived in Ulaanbaatar in 1996 by train to renew our Russian visas, we met a young English speaking man named Gana who offered us a yurt to sleep. That sounded like fun and a good alternative to the only expensive hotel in town. (Yes, at that time there was only one hotel in the capital!) He had just bought a second yurt and we were his first customers. The other was occupied by two Danish travelers. Since then, Gana grew his business exponentially, built a "yurt" hotel on the roof of his building. Here guests can still sleep in traditional yurts overlooking the city. Gana's Guesthouse is a fun place to stay. Very pleased we found him again, he invited us to stay for dinner. His wife brought out an album with photos the Danes had sent them.
An unpleasant surprise awaited us in Olgii
When we boarded the Aero Mongolia aircraft in Olgii it had been sunny and in the 30s at night. We had left our Eberspaecher Airtronic diesel air heater on low, thinking that our four Odyssey Extreme batteries in combo with the two BP85 solar panels would keep things toasty for the few days we would be gone. Surprise! The day after we left for Ulaanbaatar, which turned out to be a 13-day adventure, the sun went south and the temperature inside our camper dropped to 20°F and lower at night. With no sun on the solar panels and the Eberspaecher running full time, the batteries were soon down below 11 volts. When we returned our Everpure secondary pre-filter had frozen and exploded, leaving us with no water until I could make repairs and splices to bypass the dead filter. The primary ADC Everpure filter had survived and thankfully, our Pentair Shurflo water pump also had not frozen.
Repairing our Hellwig Suspension
Next, we had to find a shop where the truck could be worked on, and with a daytime temperature of 20°F, it had to be inside. After removing the rear storage box on the roof and lowering the tires to 15 psi, we were able to squeeze into the only mechanic shop in town. Having seen some of the work done on other projects around Olgii—like welding—we were concerned, but there was no choice. I had looked for a hardware store to buy a big bolt for the sway-bar drop-arm and found that the bolt selection in the only parts house in town which was part of the mechanic shop consisted of two military ammo cans, one for metric and one standard, all recycled. Pick and choose what you needed.
Bolts, Bits and Tools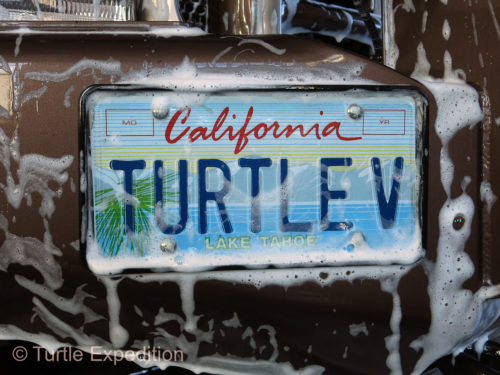 The young mechanic was somewhat taken back by the job we presented. His entire tool kit was laughable. But like any good third world mechanic, he had no fear. I loaned him my sockets and wrenches and when it came time to enlarge a couple of holes in the new brackets sent by Hellwig, the shop had a drill, but no bits and no vise. We had bits and our Mac's Trail D-Vise mounted on the back bumper proved its weight in gold. The work took about three hours plus another hour to reinstall the rear storage box and repack it. The bill was a $100, and that even included another truck wash!
With repairs made, we did take time to explore Olgii, the "middle of nowhere", and found it was a cute little town with a great public bath. The open market was interesting. We stocked up on the normal stuff; potatoes and carrots, $.17lb, mutton, (lamb) and beef, $1.46 a lb., cucumbers, $.90 lb., apples, $.90 a lb., Genghis Khan vodka, $6.61.
Hey, we could afford to live here!
After doing a final wash of our travel clothes using the luxury of the washing machine at the Travelers Guest House, we hung them outside to dry. They were frozen stiff in half an hour so we moved them into the heated camper and cranked the Eberspaecher Airtronic heater up to 70°F. We had heard the road to the Russian border was good, unless it wasn't.
Both Travelers Guest House in Olgii and Gana's Guesthouse in Ulaanbaatar can be booked through all the online travel agencies.