Overland Expo 2015
May 25, 2015
It was 4:00 in the morning. An angry wind buffeted the side of our truck. I peeked out the window and it was snowing. What the ???!!? Glancing at the outside temperature gauge, it was a bitter 33°F. Inside it was a toasty 65°F as our Espar Airtronic purred away in its "maintenance mode". I could only feel sorry for the hundreds of people surrounding us sleeping in ground tents, rooftop tents and pop-up campers. This was late Spring and it wasn't supposed to snow or even rain.
We were attending the 7th annual Overland Expo at Mormon Lake Lodge outside Flagstaff, Arizona. It's an event that is dear to our hearts since we can take some credit for bringing this level of recreational vehicle travel into its present popular state. These were not rock-crawlers or four-wheelers, towing their custom vehicles on a trailer to the trailhead, nor were they RVers driving giant motorhomes with three slide-outs. The six hundred registered attendees at this year's event think of themselves as "Overland Travelers", though perhaps not to the extreme of The Turtle Expedition, having recently finished our second circumnavigation of the planet. They may just be off for a couple of weeks in Mexico or perhaps a little jaunt down to the tip of South America and back.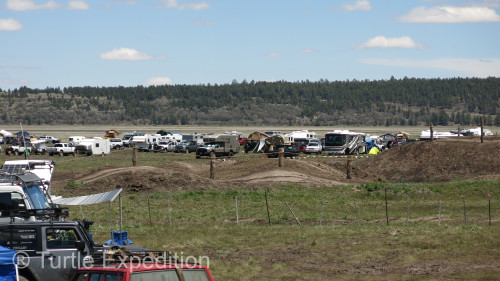 To facilitate their experience of being "Overland Travelers", there were 245 exhibitors showing off their specialized products. Everything from elaborate cook sets to rooftop tents to winches to complete ready-to-put-food-in-the-refrigerator-and-head-down-the-road-of-adventure vehicles. The options ranged from Jeeps and Land Rovers with rooftop fold-out tents to totally custom $800,000 giant Unimog and Freightliner trucks converted and built specifically for traveling overland in comfort with at least the intention of being able to go on bad roads, not just paved highways hopping from KOA to KOA. We question the practicality of some of them.
Our own Turtle V Expedition Vehicle with its custom Tortuga Camper always draws lots of attention because of its practical and functional design and compact size. It's not too big to go on the backroads we've been following for 40 years but it has the luxuries of hard sides, a shower, a toilet, a comfortable bed, and the facilities to cook healthy meals on the road anywhere in the world. Having just returned from our 40,000–mile/22-country/two-year expedition following the Silk Road and driving from the Atlantic (Portugal) to the Pacific (China), up through Mongolia, Russia, and finally into South Korea before shipping home, The Turtle V exemplifies what an overland travel vehicle is supposed to be able to do.
During the event Monika and I sat on three Q&A "Ask the Experts" panels. We also presented a PowerPoint Photo Selection on portions of our adventure along the Silk Road.
While motorcycle enthusiasts tested BMWs and other motorcycles on a special track, the Land Rover folks were doing "ride and drives" over an extremely challenging muddy course. A gathering of ex-Camel Trophy Team Members were teaching attendees how to assemble log bridges the hard way. A total of 140 trainers were busy teaching 187 seminars and classes covering everything from winch safety to how to travel with dogs and children, reading GPS maps and long-distance trip planning.
Torrential rain and melting snow had made things difficult to say the least. Our own truck was sitting in a mud bog surrounded by a small lake. The clay/mud resembled something like brown Crisco. Despite the inclement weather, 3,500 enthusiasts milled through the interesting displays during the three-day event. Many stopped to talk with us. It gave us a great feeling to have dozens of fans telling us that reading our stories over the past four decades was their inspiration to become "Overland Travelers". We realized that aside from just having a great time traveling around the world, we had evolved to a second purpose in our lives, to inspire others to follow our example.
With a little bit of sun on Sunday some of the larger vehicles made an attempt to follow the off-road driving course and proceeded to get thoroughly bogged down in the mud pits. Happy Hour each day gave everyone a chance to reconnect with old friends and meet new ones, all with a common interest.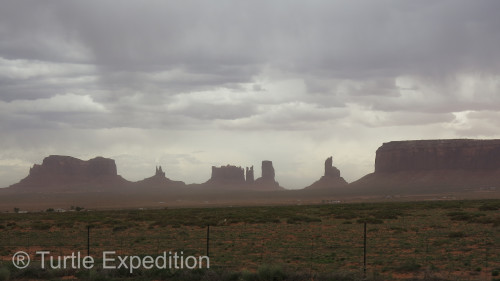 Monday morning as the campers in the outfield, some with 2-wheel drive vans or heavy trailers, were being winched and towed out of the ankle-deep mud, we joined Marc Wassmann, founder of XPCamper, and headed for the nearest car wash to spray off some of the slop. Driving north through rain squalls and dust storms we finally emerged on the north side of the front that had been tormenting us and arrived at one of our favorite campsites in the incredibly beautiful Valley of the Gods. The weather still reminded us that Mother Nature always has the upper hand. We were treated to spectacular sunrises, sunsets and even a rainbow. Using our Mexican "discada", (basically an old plow disc welded up into a portable wok), we had some wonderful meals with Marc, (a professional chef before he turned to building expedition campers), handling preparations. It was a great way to wind down after an exciting weekend. As we drove out the gravel road that twists its way through the Valley of the Gods we were reminded why we were Overland Travelers.