SEMA Show 2017 #2
November 10, 2017
The 2017 SEMA Show has come to its usual dramatic end. For those of you who are automotive fans, it was another extravaganza of everything that rolls and a few things that don't. The numbers are not in yet, but if the attendance of the 2016 SEMA was 160,000, you can bet this year topped 200,000 when you consider all the people that came in from the street and those who visited SEMA IGNITED on Friday night. We weren't able to spend too much time at our truck during the day, but conversation was challenging. Being next to the drift track, the sound of full-blown 750-horsepower Cobra 427's was music to some peoples' ears, it was deafening as they burned around the asphalt in a cloud of smoke.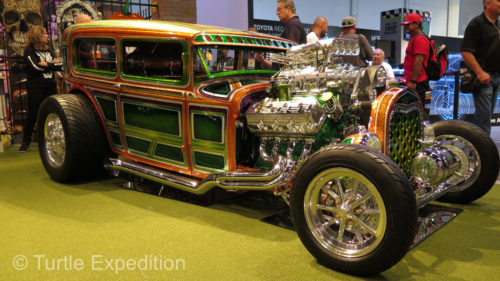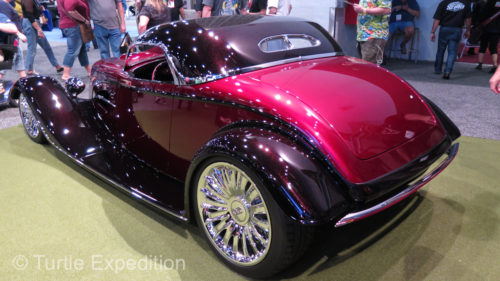 Inside the halls things were a little tamer with some of the most beautiful works of automotive engineering you will see anywhere, from lifted trucks to restored classics to hot 4X4s that will never see dirt. We were busy walking the aisles and saying hello to our many sponsors who have participated in the building of our five expedition trucks over the past 45 years. We did take a short break for a test ride in one of those 4X4 go-carts that are now plaguing the backroads of Baja. They are undoubtedly fun, but if we ever meet one of these wanna-be-racers coming over a hill at high speed on one of our favorite two-tracks, we hope there won't be a loud "SPLAT" with blood running off our windshield.
Friday night was sort of the grand finale. All the cars and vehicles inside and all the specialty vehicles outside like our own Turtle V slowly wound their way out of the show and across the street on the official "CRUISE" to the Gold Lot. Bleachers had been set up and what felt like thousands upon thousands of people were lining the streets to watch the millions of dollars' worth of sheet-metal roll by. The main thoroughfare of Paradise Road was blocked off completely and it was quite a procession to say the least.
Arriving in the Gold Lot for the start of SEMA IGNITED, there were side-by-side drifting competitions, two or three live bands, a few dozen food vendors, and of course, all of the vehicles that had just participated in the "CRUISE" were lined up and parked everywhere for people to walk around and visit and take a closer look. We didn't get out of the show's Gold Lot until after 10 o'clock and it was 1 o'clock before we actually went to bed, exhausted but happy that another SEMA Show was behind us. By rough count, we have attended SEMA for 32 years and running.
We decided to take it slower going home and managed to stop in a few places we hadn't visited in the past. Our favorite camp at the deserted military housing tract just outside of Hawthorn waited for us. We turned down a little side road just to watch the odometer turn over 200,000 miles. As luck would have it, we snuck over Donner Pass on dry roads, just missing the first snowstorm of the year. Let these pictures tell you a little bit of the story in case you missed the 2017 SEMA Show, undoubtedly the largest display of aftermarket automotive products in the world.