Azerbaijan 1 – 6/2014
December 16, 2016
"AZERBAIJAN BORDER—GOOD LUCK" read the sign as we rolled slowly towards the big entry gate. The name Azerbaijan has a magical mystery sound to it. We're familiar with country names like Italy, Spain, Turkey, even Georgia, the country we were just leaving. They all sound familiar, but Azerbaijan? Where is it? Situated at the crossroads of Southwest Asia and Southeastern Europe, it is bound by the Caspian Sea to the east, Russia to the north, Georgia to the northwest, Armenia to the west and Iran to the south, in a geographical region called "Transcaucasia" or "South Caucasus".
After numerous earlier attempts, the country declared independence from the collapsing Soviet Union on Aug. 30, 1991. Today it is a member state of the Council of Europe, the OSCE and the NATO Partnership for Peace. Its president, Ilham Aliyev, has served since taking over from his popular father in 2003. While the majority of the population is Shiite Muslim, the Constitution of Azerbaijan does not declare an official religion and all major political forces in the country are secularist, which, among other things, gives Azerbaijan the right to be free from religious ruling and teaching, an interesting freedom for a country with over 99% literacy.
We had actually hoped to visit the country of Armenia before that, but were advised that it might be difficult to enter Azerbaijan with an Armenian stamp in our passport due to an ongoing land dispute between the two countries.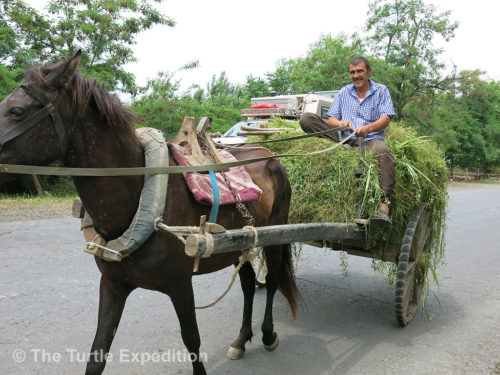 Entering Azerbaijan was relatively straightforward. It felt like most of the insane drivers were left at the Georgian border. Traffic was light and often included cows, pigs, sheep, horses and pedestrians. Houses were what we might have expected from a Third World Ex-Soviet satellite. Homes were simple brick-and-mortar. Those near the main highway all had natural gas, and as we had seen in Georgia, all the gas lines run above ground in front of the homes.
It was late afternoon and we hadn't found any great places to stop for the night. A dirt road ran off into farmlands and after a quarter of a mile we saw a dirt driveway going to a brick home. Just as we came to it a Lada Niva was exiting, so we flagged it down and asked the driver if he would mind if we parked just off the main dirt road. As if we had been in Russia again, with their overwhelming hospitality, he smiled and motioned that we should park up by his house. We did, and soon we were inside meeting his family, drinking tea and being invited for dinner, which eventually turned into an interesting party with at least one bottle of vodka being passed around. (Remember, this is a Moslem country.)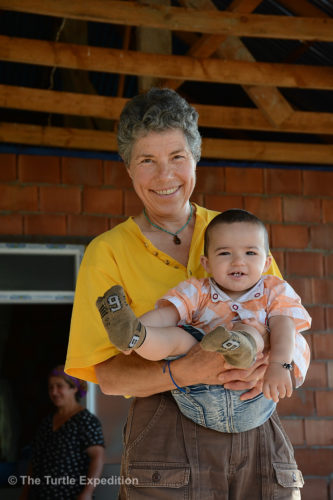 Our host was very proud of his relatively new home. We did notice, with a smile, the standard Soviet-style washbasin outside, controlled with a push-up valve in the bottom of the water tank. It's actually quite an ingenious system. His wife was a wonderful lady with a warm smile who never blinked when he said "Honey, we have company for dinner." Unfortunately, she did not join us at the table (which is most likely their custom), but Monika quickly made friends with her and the children. We came supplied with an assortment of balloons and little pins from Simple Green with an alligator, (their mascot), and an American flag. Kids in all these countries love pins and balloons.
We knew we would find people like them throughout Azerbaijan, but unfortunately we were forced into a march route to the capital, Baku, and the port where we hoped to catch an unreliable ferry across the Caspian Sea. Taking the ferry would eliminate the problems of driving around the Caspian through Iran, which necessitates among other things, a Carnet du Passage (basically a passport for your car which requires a large amount of cash deposit) for the vehicle.
Back on the highway, we followed a fertile valley along the Kura River that drains into the Caspian Sea. We couldn't resists stopping at roadside fruit and vegetable stands, not knowing what we might find in Baku. Being mostly mountainous, Azerbaijan has less than 23% of arable land, so they must use it wisely for wheat and animal feed. Like Russia, almost everyone has a vegetable and potato patch.
We had been warned that the ferry was a rust bucket and always late, and we had to allow time to go to the Turkmenistan Embassy in Baku to try and get our visa for that country. Like the sign said, "Good Luck"!!