Cabo da Roca, Portugal – Sept. 10, 2013
October 23, 2013
So here we are at the most western point in continental Europe and in fact, the most western point of the Eurasian landmass. If you have been following our blogs for the last few months, you know that we have shipped our expedition camper and truck, The Turtle V, to Europe, and we have wandered down through Belgium, Germany, Switzerland, France, a little of Northern Spain, and finally, to Portugal. Now that we have finally reached Cabo da Roca, our intended adventure, The Trans-Eurasian Odyssey, has begun. Everything before was just a warm up. The bugs and little problems of long-distance travel are slowly working themselves out.
We are ready for our New Adventure
The Trans-Eurasian Odyssey along the Silk Road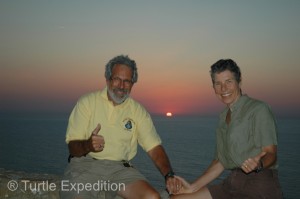 Our next stop will be Lisbon, the capital of Portugal. We realize that we can't see everything that's important, interesting or beautiful in every country, but we have some ideas of where we want to visit. As we head south and east following the coast of the Atlantic and then the Mediterranean Sea we will be sharing a little of our adventure. As much as we can, though we often have no control, we will be following John Steinbeck's advice which has led us on adventures for the last 40 years: "Don't take the trip." he said, "Let the trip take you". We must remind ourselves that the Essence of Adventure is not knowing how it's going to come out.
As we stand above the 100-meter-high, (320 ft) cliffs in front of the Cabo da Roca monument, (N 38°46'880″, W 9°29'809″), the weather is perfect. It is an exciting day! The date is September 10, 2013. (You can see we're little behind in our blogs.) Ahead of us, many countries and thousands of miles away lies Beijing, China, the end of the Silk Road, but probably not the end of The Trans-Eurasian Odyssey. We do hope you'll join us.